Partnership for Resilient Communities
Resilience is the hallmark of a sustainable community, and community organizations play a powerful leadership role in ensuring local resilience efforts meet the needs of all residents. The Partnership for Resilient Communities (PRC) provides community-based organizations with the strategic resources and technical assistance to shape and lead resilience projects born from the voices and priorities of underserved communities.
ISC supports and connects organizations with strong histories of leading positive transformations in their communities to implement innovative green infrastructure and clean energy projects. In 2016, ISC brought together Living Classrooms Foundation of Baltimore and Eastside Community Network of Detroit as the partnership's inaugural cohort. With the Westside Housing Organization of Kansas City joining in 2017, and Walnut Way Conservation Corp. of Milwaukee in 2018.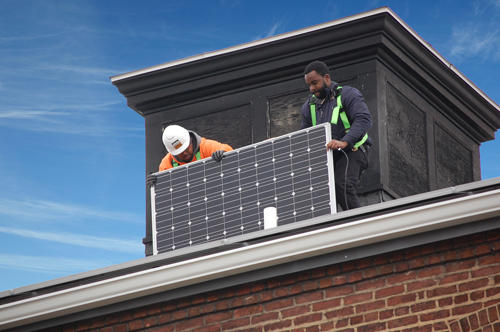 Contact
"I can speak for the entire team when I say that I truly appreciate the assistance and navigation from ISC in launching this project."
-Raquel Lilly, Project Manager, Living Classrooms Foundation
Our partners say it best—empowering community-based organizations and the residents they serve creates "an opportunity for monumental change."