Here at the Institute for Sustainable Communities, our motto is "what's possible". It represents our enduring belief that when the power of leaders like you is unleashed, sustainability is within reach. How we get there varies widely. There are often hurdles along the way, but it always begins with enthusiastic people ready to roll up their sleeves and try something that – until now – they only dreamed was possible.
Launched One of the First Community-Driven Resilience Hubs in the U.S. 
This is the first of three planned resilience hubs that'll be located in low-income neighborhoods of color around Baltimore and provide an immediate resource for residents in the event of power outages, natural emergencies, and man-made disasters. Each hub provides access to electricity, refrigeration for medicine & food, radios, and more.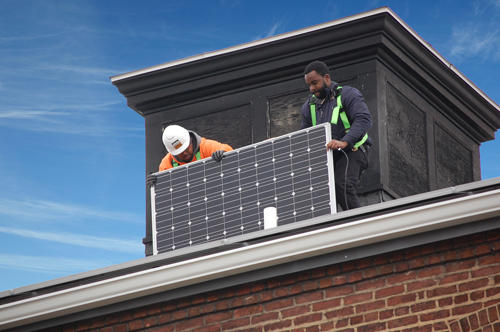 Completed a 3-year Project to Spur Solar Deployment. 
The Solar Market Pathways project gave 14 communities across the country the opportunity to receive funding, coaching, peer learning, and technical assistance to create new market-based solutions to speed solar deployment. Along the way, we tracked and shared lessons learned, including this video about different approaches to resilient solar.
Dramatically Accelerated CO2 Reductions in Multiple Chinese Cities. 
In China, the highest carbon-emitting country in the world, ISC is working with cities to create sustainable, low-carbon pathways to development. We helped city staff on topics such as clean energy adoption; energy efficiency; green transportation, buildings, and waste management; and climate adaptation.
Introduced a New Regional Climate Collaborative in Texas. 
In 2017, Hurricane Harvey reminded the greater Houston area of the threat climate change presents. This year, ISC partnered with the Houston Advanced Research Center to launch a new initiativethat will create practical, community-led solutions to direct, accelerate, and streamline existing recovery and resilience efforts.
Launched a Clean Energy Accelerator for Factory Operators in India.
As a part of our EHS+ Centers, ISC introduced a new intensive training program in India designed to speed up the adoption of energy efficiency practices in factories throughout the country. The project, which will save companies money in addition to electricity, water, and fuel, was recently featured in the Times of India.
Celebrated the 10th Anniversary of the Southeast Florida Regional Climate Change Compact.
Lauded by President Obama as "a model not just for the country, but for the world," the Southeast Florida Regional Climate Change Compact has now been hard at work for a decade! The Compact continues to be an inspiring example of cooperation for a greater purpose against a background of divided politics and competing interests. Check out their Regional Climate Action Plan 2.0!
Shared a Vision of Net Positive Factories with the India Business Council. 
In September at the India Business Council's Ideas Summit, we presented this video about our vision of "net positive" manufacturing(zero waste, zero emissions, and clean water/energy to share) along with practical steps to get there.
Engaged in Important Global Conversations about Climate Change. 
2018 was full of reports reminding us of the dire consequences for people and planet if we don't act fast to curb our fossil fuel emissions. ISC met with government, foundation, and private sector leaders at the Global Climate Action Summit, One Planet Summit, and COP 24 to craft solutions for an inclusive clean economy and healthy, resilient communities.
Began the Journey to Replace 600,000 Inefficient Motors in India. 
Working with EESL, the world's largest efficiency utility, we helped pilot the National Motor Replacement Program. The program has the ultimate goal of replacing 600,000 inefficient industrial motors. 
Launched a New Website to Better Serve Our Partners and Donors. 
RIP iscvt.org. Welcome to the world, sustain.org! Please check it out and tell us what you think.