Institute for Sustainable Communities announces program expansion
Montpelier, VT — June 1, 2017 — The Institute for Sustainable Communities (ISC) today announced two community-based organizations joining its Partnership for Resilient Communities (PRC). The organizations will implement projects to make underserved neighborhoods more resilient to social, environmental, and economic issues while advancing social equity.
Through the partnership's competitive proposal process, Larimer Consensus Group of Pittsburgh and Westside Housing Organization of Kansas City were chosen to join an 18-month partnership with ISC to work on intensive resilience-building projects that serve their cities' most vulnerable populations. ISC will provide each organization with customized technical assistance, access to national experts and leaders, connections with peer organizations, and $150,000 of strategic resources.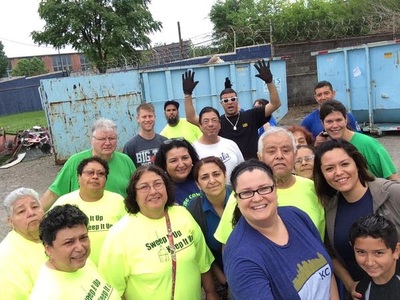 These two organizations represent the PRC's second cohort, following the 2016 inaugural group of the Living Classrooms Foundation (Baltimore) and Eastside Community Network (Detroit). The PRC connects communities wrestling with similar challenges to act as collaborators as they develop community-driven resilience projects in underserved neighborhoods.
"The breakthroughs coming out of our Baltimore and Detroit projects have exceeded our expectations and demonstrate that the PRC approach creates meaningful action and impact," said ISC Senior Program Officer Tessa Kaneene. "We are thrilled to forge new partnerships with Larimer Consensus Group and Westside Housing Organization and to work with these organizations in an in-depth way. Their projects will not only help build community resilience, but will enable these community-based organizations to be leaders in transforming the environmental, social, and economic health of Kansas City and Pittsburgh."
Through this partnership, the Larimer Consensus Group will bring together a coalition of residents, nonprofit partners, and technical experts to develop two microshed green stormwater infrastructure plans for the Little Negley Run watershed, which runs through several underserved neighborhoods in Pittsburgh. The microshed plans will be integrated with broader municipal stormwater and development plans to be implemented by public agencies, ensuring that community members are able to shape the future of their communities. The project will build resilience to flooding, reduce runoff, strengthen social cohesion, and advance environmental literacy through robust community engagement. It will also allow for the creation of a replicable best practices for developing and financing community-led green infrastructure investments in neighborhoods across the country.
"Over the past several years we have engaged the community around sustainability as we implemented our Vision Plan," said Stan Holbrooke, Executive Director of the Larimer Consensus Group. "We're excited for the opportunity to tap into the technical knowledge ISC will bring to make our community safer and better equipped to deal with issues around climate change, stronger storms, and public health. This partnership will increase local capacity and knowledge around resilience in our watershed, and we look forward to sharing the creative solutions our community develops with other peer organizations across Pittsburgh and across the country via ISC's network."
Westside Housing Organization will develop Kansas City's first-ever solar farm, which will not only provide renewable energy to parts of the Kansas City community, but will reduce energy costs for the residents of the surrounding affordable housing developments and create a source of reliable funding to support Westside Housing Organization's mission. Through this partnership, they will design and build an effective model for their solar installation that benefits the community through cost savings, environmental literacy, and job training. This project will serve as a replicable model for community development corporations across the country seeking to build resilience in their communities and increase the capacity of their own organizations.
"Through this partnership with ISC, Westside Housing Organization will have the capacity to make huge contributions to the community resilience movement locally," said Gloria Ortiz-Fisher, Executive Director. "This project will extend our work at the intersection of housing, health, and energy, while ensuring that affordable multifamily communities have equitable access to resources and knowledge that improve the energy efficiency of their homes."
The ultimate mission of the PRC is to promote and build capacity for inclusive, community-driven approaches to urban resilience, to advance social equity, and to bolster social cohesion within our cities.
ISC has worked with hundreds of U.S. communities and community-based organizations to achieve their sustainability goals. These community-based organizations have a critical role to play in planning and implementing projects rooted in a community-based definition of resilience that meets the social, economic, and environmental needs of residents – especially those most vulnerable.
The addition of a second cohort to the partnership was made possible after The JPB Foundation recognized promising initial results from the first two projects. Learn more at: www.sustain.org/program/partnership-resilient-communities
About Institute for Sustainable Communities
An international nonprofit organization, the Institute for Sustainable Communities (ISC) has 26 years of practical experience working with local leaders to accelerate climate change and sustainability solutions. ISC's programs are designed to facilitate peer learning and engagement among local leaders charged with the work of making their communities more sustainable. ISC has led more than 110 projects in 30 countries, and currently works in Asia and the United States. Learn more at: www.sustain.org
About Larimer Consensus Group
The Larimer Consensus Group (LCG) is a resident-driven 501C3 organization, formed to bring stakeholders from the Larimer neighborhood together to be at the forefront of community-driven change. In 2010, The Larimer Vision Plan was established upon the principles of equity and sustainability. The plan focused on a comprehensive approach to community transformation and strived to thoroughly identify community needs through aggressive community engagement. The LCG is poised to begin a single-family housing and land use strategy, based on the Vision Plan, that will require re-engagement of the entire community. Integral to the housing development process is the implementation of green infrastructure strategies. The LCG and its partners will continue to look for creative ways to bring a greater ecological function into the community, as well as to mitigate rainwater runoff. 
About Westside Housing Organization
Westside Housing believes that everyone should have housing with dignity. And, that without a safe, affordable place to live, people can't achieve their dreams for good health, education, or financial well-being. Westside Housing Organization works across Kansas City to repair and preserve their wonderful, aging homes for low-income people. It also provides affordable rental communities in the Westside so that seniors and families can afford to stay in the neighborhood they love. Westside Housing Organization works in partnership with the residents of the communities it serves and with a focus on health and energy-efficiency. Ultimately, it wants to revitalize communities so that they are healthy, resilient places where people want to live, work, and play.