While sustainable farming practices for cotton are gaining importance in light of the growing recognition for improving the sustainability of cotton farming, widespread adoption remains challenging for cotton farmers in India, one of the major cotton-growing regions of the world. 
When reading about sustainable practices like applying farmyard manure and setting up simple yet effective pest traps, the average reader and practitioner may wonder why farmers are reluctant to adopt these practices. Why are targeted programs and farmer field schools required to boost the adoption of low-cost, highly effective, and sustainable farming practices for cotton? Why are some practices quickly adopted while some highly effective ones are ignored? The Institute for Sustainable Communities (ISC) is implementing a project on promoting water stewardship amongst cotton-growing communities in Maharashtra and Madhya Pradesh as part of the USAID Gap Inc. Women + Water Alliance. 
This research has led to three main recommendations for organizations working in cultivation to help increase the adoption of more sustainable practices in cotton farming in India and elsewhere in the South Asian context, taking into account any local nuances. These recommendations call for promoting the use of organic inputs to lower the environmental footprint of cotton cultivation; dissemination of the evidence and narrative for adopting sustainable farming practices; and ensuring the availability of good farm inputs on time.
Assessing the reasons for adoption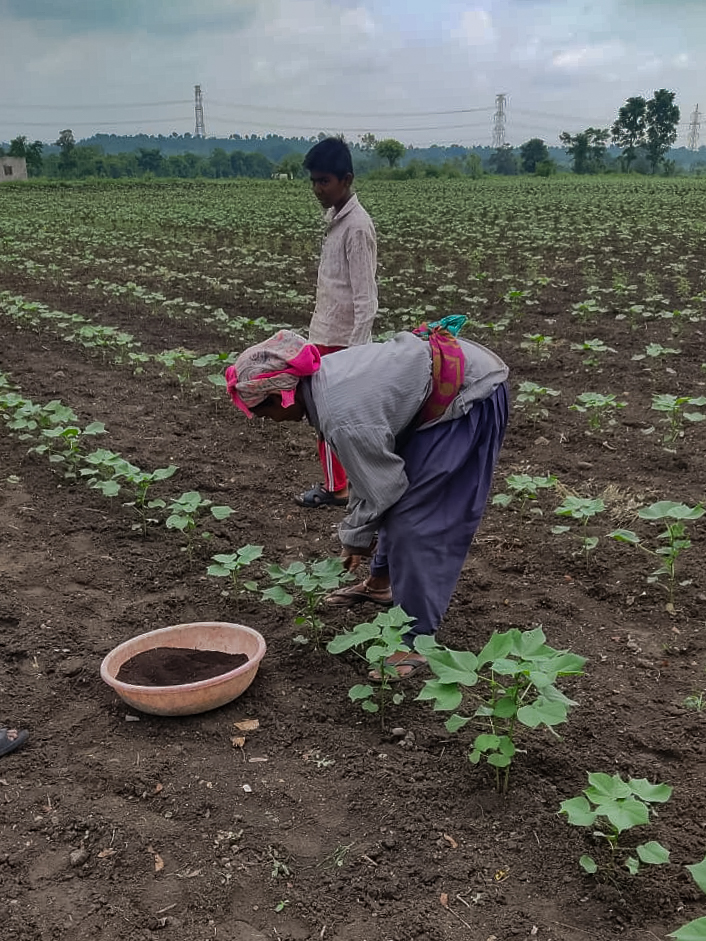 Over the past three years, ISC has demonstrated the effectiveness of good operating practices (GoPs) through engagement with 4,140 unique cotton farmers and has shown impacts with respect to reduction in inputs and cost of cultivation and increases in yield and incomes. To understand the reasons for the adoption/non-adoption of good operating practices, the ISC team spoke with cotton farmers about their choices in adopting commonly promoted sustainable cotton farming practices. We spoke with farmers across three groups: women farmers, rainfed men farmers, and irrigated men farmers. Our group discussions reviewed the GoPs our program recommends and polled farmers for their thoughts on the processes. 
Farmer interest and availability of inputs
One of the first results to emerge from discussions was the different attitudes of women and men farmers towards bio-pesticides and bio-fertilizers. These include neem (Azadirachta indica) leaf extract,  dashparni – a biopesticide made of the extracts of ten types of leaves, farmyard manure, vermicompost, and jeevamrut – a microbe-rich liquid prepared from kitchen and farm ingredients. All farmers showed a high awareness of the benefits of these inputs. 
For women farmers, making these inputs themselves at home and applying them was preferable to purchasing inputs. Conversely, men farmers were not interested in making any inputs at home but were willing to buy them. They noted that inputs like jeevamrut, neem extract, and dashparni were hard to source and were rarely available in the amounts required at their local agricultural supply vendors. Also, some farmers felt that such inputs available at supply shops were of inferior quality. 
Farmers with large landholdings of both genders mentioned that making these inputs in high volumes was difficult. While these inputs are available from women-owned enterprises (developed as part of the Women + Water Alliance) or private dealers, such enterprises require an upfront payment. Farmers almost entirely buy all of their inputs on credit from agricultural supply vendors during the cotton season. They often do not have the cash to spend directly on inputs. If they do have cash available, they wonder if it is better to invest in the purchase of chemical pesticides and fertilizers which have guarantees of effectiveness printed on the package. Farmyard manure is becoming increasingly expensive and difficult to source in good quality. Farmers mentioned hiring local livestock owners to bring their animals to settle in their fields for a day or two. 
Cost as a deciding factor
The other types of GoPs are practice-based. These include methods like 1) water conservation practices such as alternate furrow irrigation, broad bed furrow (in which runoff water is diverted into field furrows), bunding (an embankment used to control the flow of water), and critical irrigation, and 2) pest-related practices (such as installing low-cost pest traps and planting trap crops like marigold to entice pests away from cotton), and harvest quality maintenance practices like grading and sorting harvested cotton. 
We spoke to farmers after the pink bollworm had decimated harvests in 2020 and 2021. Farmers had associated the pink bollworm with high soil moisture and were therefore reluctant to practice any irrigation. All farmers appreciated the potential usefulness of bunding but noted that the costs to do these themselves were high. Broad bed furrows were expensive and were only done in saturated soils. Drip irrigation also had a high price (less effective subsidy) and maintenance, and farmers preferred sprinkler irrigation. 
Our pest trap-related GoPs included yellow sticky, pheromone, and light traps. Farmers were convinced of their efficacy, and many had observed insects caught in the traps. However, here again, sourcing traps were an issue. Many farmers had been given incorrect or ineffective lures for the pheromone traps from agricultural supply vendors, and all traps were available in low numbers. As a result, some farmers used fewer traps than recommended and did not see results. 
As to grading and sorting, a simple way to maintain the quality of harvests, almost all farmers mentioned that they would like to do it but have no space to do it in their homes.
These discussions have shed light on our questions on why some simple practices were not well-adopted by farmers, and we see that while farmers have good intentions, awareness, and willingness to try out sustainable GoPs, they face issues of availability and financing. 
We have three suggestions for programs focusing on increasing the adoption of sustainable GOPs. First, we recommend increasing the amounts of bio-fertilizers and bio-pesticides produced and encouraging local enterprises to make them. The second is to create systems where farmers can procure sustainable inputs on credit by increasing the availability of well-packaged sustainable inputs at agricultural supply vendors or creating alternative pathways. Finally, we suggest creating a narrative of cost reduction using sustainable inputs compared to chemical inputs, as sustainable inputs are mistakenly seen as expensive now.  
This post does not represent the views or positions of the U.S. Agency for International Development, the U.S. Government, or Gap Inc.